Bombs Drops - Physics balls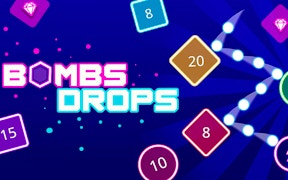 Bombs Drops - Physics balls
Immerse yourself in the thrilling world of Bombs Drops - Physics balls, a unique blend of arcade, ball games, and number games. An adrenaline-charged fusion of agility and strategy, it will certainly set your gaming pulse racing.
Turn into a virtual bomb dropper as you set forth to bomb and blast your way through challenging block structures. Armed with physics-engineered balls that roll, bounce, and careen off angles, it's a deliciously skillful game that pumps up the intensity at every level.
What sets Bombs Drops - Physics balls apart in the realm of skill games is the fusion of strategizing and dexterity. As you dodge obstacles and time your moves to perfection, watch the blocks tumble down in a satisfyingly rhythmic destruction.
The true triumph lies in breaking all bricks in one shot—an achievement that goes beyond mere victory to touch upon gaming nirvana. Collect bonuses to gain an edge and to complete all those wickedly fun levels that never seem to end.
In the landscape of arcade games, which is filled with monotony and redundancy, Bombs Drops - Physics Balls stands tall as an oasis of innovation. The sublime combination of ball games mechanics with elements of number games ensures an experience that is as immersive as it is exhilarating.
If you're looking for a game that challenges your skills rather than your luck or patience, give Bombs Drops - Physics Balls a shot. It's more than just a game; it's an enthralling journey through the realms of speed, precision, and strategy.
Bomb drop after bomb drop, level after level, Bombs Drops - Physics Balls promises non-stop gaming ecstasy for arcade game aficionados and rookie gamers alike. Dive into this enthralling gaming adventure today!
What are the best online games?