Boat Drift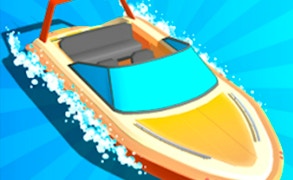 Boat Drift
If you're a fan of driving games and racing games, then I have a thrilling game recommendation for you. It's called Boat Drift. Yes, you read it right, boat! Not your usual car or bike drifting; it's drifting on water, making it one of the most fun and unique drifting games available.
Boat Drift is a refreshing, fun-packed innovation in the racing genre. You might be an expert at road racing, but can you handle a boat? With this game, you can gauge your boat racing and drifting abilities. Using just your mouse, you control your boat throughout some of the most challenging courses with the aim - to achieve the highest scores through skillful drifting.
But that's not all. One of the exciting aspects of Boat Drift is that every drift rewards you with gold. This gold isn't just for show but can be used to upgrade to superior boats. So, not only do you get to enjoy the thrill of boat racing and drifting, but there's also an element of strategy involved as you decide when it's time to say goodbye to your beloved drift-boat and upgrade to a sleeker model.
Boat Drift, with its innovative concept and engaging gameplay mechanics, guarantees hours of fun. It offers an adrenaline pumping experience that rivals many 'traditional' racing games. The satisfaction derived from successfully executing a high-speed drift on water is unparalleled.
In conclusion, if you're on the lookout for fun games, especially driving or drifting ones with a unique twist, then Boat Drift should be at the top of your list!
What are the best online games?