BMX Online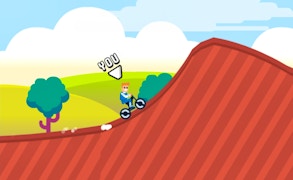 BMX Online
Ever thought of merging the thrills of driving games, the adrenaline rush of BMX stunts and the heart-pounding excitement of dirt bike racing into one epic multiplayer experience? Welcome to the world of BMX Online, a multiplayer game that serves as a melting pot for fans of dirt bike games, bmx games, and motorcycle games.
In the vast landscape of multiplayer games, BMX Online stands out with its unique blend of immersive gameplay, slick controls, and top-tier graphics. Starting off, you'll be thrown straight into a high-octane race against two other players online. The exhilaration matches that of real-life BMX races. The developers have done an exceptional job in recreating that sense of wild abandon that comes with tearing through dirt tracks on a bike.
The controls are newbie-friendly. This is no mean feat considering how notoriously difficult it can be to replicate the exact physics of BMX stunts in a digital format. The game strikes a commendable balance – making it accessible for beginners while ensuring that experienced gamers looking for the raw intensity found in hardcore dirt bike games aren't left disappointed.
The graphics quality is top-notch, further adding to the game's appeal. From intricately designed bikes to vividly detailed environments, every visual element has been crafted with care.
In conclusion, BMX Online offers an adrenaline-infused gaming experience that draws inspiration from the best aspects of driving games, bmx games, and motorcycle games. If you are an ardent fan of multiplayer competitions and thrive on fierce rivalry this game is an absolute must-try. So gear up and embrace the thrill!
What are the best online games?