Blue Roses Puzzle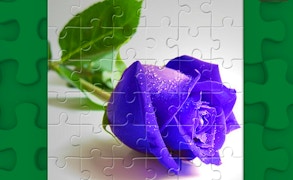 Blue Roses Puzzle
If you are a fan of brain games and are always on the hunt for a new challenge, let me introduce you to the Blue Roses Puzzle. This one-of-a-kind puzzle game brings a perfect blend of anime aesthetics and an engaging jigsaw puzzle experience to keep your neurons buzzing.
From the get-go, Blue Roses Puzzle presents itself as a delightful game for girls, with its stunning visuals that blend together beautiful anime girls and captivating blue roses. But don't be fooled by its soft exterior, this game packs a punch in terms of mental exercise!
The game offers six enchanting images for you to piece together. Each image unravels a tale of an anime girl with blue roses. The storyline is brimming with mystery and intrigue that is sure to pique your interest. Plus, with four different modes offering 16, 36, 64 and even 100 pieces, this game caters to all types of players - beginners and experienced puzzlers alike!
The Blue Roses Puzzle is more than just another jigsaw puzzle game. It's an adventure that exercises your mind and your perceptual prowess while immersing you into a beautiful world of blue roses. The escalating difficulty levels will constantly push your boundaries, making sure there's always a new challenge waiting for you.
If you're in search of a fun way to keep your brain sharp or simply love puzzles, then don't miss out on the Blue Roses Puzzle. It won't just while away some mindless hours; it will activate your grey cells too! So why not give it a try? Dive into this magical world of anime girls and blue roses today!
What are the best online games?