Blue Block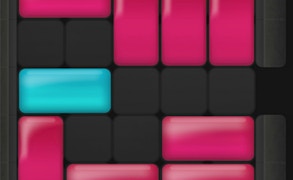 Blue Block
Entangle yourself in the mesmerizing labyrinth of Blue Block, the latest sensation in block games and an exhilarating brain teaser that promises hours of enthralling gameplay. Free the captive blue block and let your neural pathways light up as you navigate this unique, addictive spin on classic puzzle games.
The premise of Blue Block is deceptively simple. However, don't be fooled; with its cleverly constructed puzzles, it tests your strategic thinking to the limit, cementing its place at the top of must-play brain games. Every move you make brings a ripple effect, either bringing you one step closer to victory or pushing you further into a mind-numbing quandary.
In Blue Block, the freedom of a sapphire-hued square hangs in your balance. Your task? Strategically maneuver other blocks out of the way to release your azure friend. The feeling of liberating that blue block after pondering over a tough level is profoundly satisfying.
The game offers countless level variations, each more intriguing than the last. The learning curve is gentle and welcoming for beginners while offering enough complexity to engage seasoned puzzle fanatics. It's akin to digging into an elaborate mystery novel; it boggles yet keeps you yearning for more.
Blue Block's minimalistic design and subtle soundtrack enhance its immersive nature. Despite its simplicity, it boasts impressive depth and replay value, making it an excellent choice for both casual gamers looking to pass the time and puzzle enthusiasts seeking a formidable challenge.
Brain games are known for their cognitive benefits, and Blue Block is no exception. It fosters concentration, patience, and problem-solving skills - qualities that permeate beyond screen life into daily routine.
All in all, if you're looking for a captivating puzzle experience that taxes your mind while tickling your senses, free the blue block in this online treat – because nothing says fun like a time well spent flexing those gray cells!
What are the best online games?
TAGS