Bloon Pop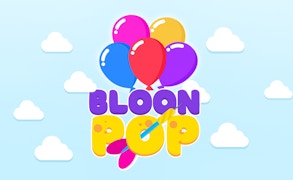 Bloon Pop
Description
Bloon Pop is an engaging and colorful shooting game that challenges your precision and understanding of physics. Your mission is to burst as many multi-hued, helium-filled bloons as possible by launching darts. Aim carefully, select the intensity level for each shot and make sure to neither miss nor overshoot. This exciting game combines skill and strategy in one fun-filled package.
How to Play
Your main controls are the target you use for aiming and the intensity bar for adjusting power. By maneuvering these controls, you launch the dart towards the bloons. Perfect your aim and power adjustment to pop maximum bloons. Each successful shot will bring you closer to victory; remember, this game is about precision and timing.
Tips and Tricks
The key to success lies in mastering the right combination of aim and power adjustment. Start with a lower power level to understand how it affects your dart trajectory; then gradually increase it while maintaining accuracy. Also, developing a rhythm in launching the darts increases your chances of popping more bloons.
Features
Fun-filled, colorful graphics that engage players of all ages.
Skill-based gameplay, where precision and strategy matter more than speed.
Diverse difficulty levels, making each new round an exciting challenge.
Innovative controls, using an aiming target and adjustable intensity level for each shot.
What are the best online games?