Bloo Kid 2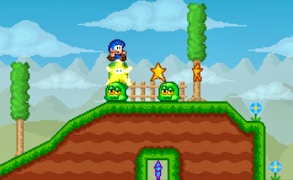 Bloo Kid 2
Embarking on an enchanting journey filled with pixelated joy, excitement, and nostalgia, Bloo Kid 2 swiftly carves out a unique space for itself in the realm of retro games. With its DNA deeply rooted in the celebrated traditions of Mario games, this enthralling entry in the world of pixel games and skill games offers an immersive experience that commands attention.
The narrative picks up where the saga left off. Our beloved protagonists Bloo Kid and Pink Girl now find sparkles of bliss in their life with their newborn "Pink Kid". However, as fate would have it, tranquility is short-lived and an entirely new adventure begins to unveil.
The game's aesthetic is a loving homage to the era of 8-bit gaming, replete with beautifully designed pixel-graphics. These quaint visuals complemented by a full chiptune soundtrack add layers of retro charm that transport you back to the golden age of arcade gaming. The artistry embedded within each pixel evokes a sense of nostalgia while creating an enchantingly fresh environment.
Bloo Kid 2's gameplay is delightfully robust. As players run, jump, and swim their way through FIVE expansive worlds spanning twelve levels each, they are constantly challenged by brutal boss fights. These engaging encounters test your reflexes and push your skills to their limit. The joy of discovery also plays a pivotal role as numerous secrets lie hidden throughout these tactile worlds, making exploration a key element in this captivating concoction.
In conclusion, Bloo Kid 2 expertly balances modern design principles with retro aesthetics to deliver a truly outstanding arcade experience. It's a must-play for fans of Mario games, lovers of skill-intensive challenges and aficionados of retro ambiance alike. Strap yourselves in for an unforgettable journey into the bloo!
What are the best online games?