Blocks Fill Tangram Puzzle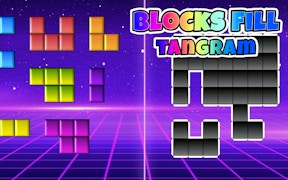 Blocks Fill Tangram Puzzle
Unlock the full potential of your cognitive abilities with the vibrant, thrilling and addictive nature of Blocks Fill Tangram Puzzle. Categorized amongst captivating block games, this game is a definitive merger of entertainment and cognition stimulating prowess, promising an enchanting gaming experience for all enthusiasts of brain games.
Satisfy your craving for mental gymnastics as you traverse through over 1000 puzzles spread across 12 engrossing difficulty stages, accommodating all levels of gamers. With each stage named excitingly from 'easy' to 'impossible', no stone is left unturned in challenging novices and experts alike in this magical tangram adventure.
Blocks Fill Tangram Puzzle undoubtedly sits atop the mountaintop of Addictive Games, serving not just enticing graphics but a multitude of features. With each difficulty offering 80 unique puzzles, it ensures that gamers remain perpetually engaged. The daily tangram puzzle feature ensures a fresh challenge every new day while bonus rounds appearing every 5 rounds keep the excitement alive.
To make matters even more intriguing, the game provides hints for stumped players, assuring that no one is left behind in this incredible block adventure. In essence, whether you're a seasoned puzzle aficionado or someone who is just stepping into the realm of brain games, Blocks Fill Tangram Puzzle has something invigoratingly refreshing and mentally stimulating to offer everyone.
In conclusion, hone your problem-solving skills while immersing yourself in an ocean of vibrant hues and addictive gameplay with Blocks Fill Tangram Puzzle - a gem among puzzle-loving gamers' collections!
What are the best online games?