Block Puzzle Plus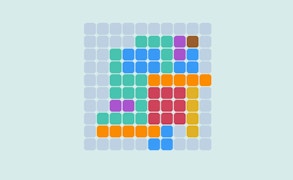 Block Puzzle Plus
Immerse yourself in the vibrant world of Block Puzzle Plus, a sophisticated and stimulating game of strategy in the genre of puzzle games. This brain-teasing marvel combines sharp graphics, captivating gameplay, and an array of multicolored blocks to create an unparalleled gaming experience.
Inspired by the timeless classic Tetris, Block Puzzle Plus seizes your attention from the start. The game's success lies in its simplicity, pulling inspiration from traditional block games but adding its unique flair. The result is a familiar yet refreshing form that will engage both newcomers and veteran gamers alike.
Your objective within this lively realm is to strategically arrange an assortment of differently shaped colored blocks to complete rows on a 10x10 grid. In this brainy battlefield, every move counts. The game demands careful planning, quick thinking, and brisk execution - a testament to its standing among brain games.
The beauty of Block Puzzle Plus is its unpretentiousness. It doesn't overcomplicate things with unnecessary features or gimmicks. It's not about flashy graphics or intricate narratives; it's all about the puzzle. And therein lies its charm - it's minimalist yet gripping; simplistic yet challenging.
In summary, if you're keen on puzzle games that challenge your strategic skills and mental agility, Block Puzzle Plus might be your next digital obsession. With its easy-to-understand mechanics inspired by block games and stimulating gameplay designed to enhance your cognitive abilities like top-notch brain games, this inventive puzzler deserves a spot on your must-play list.
What are the best online games?
TAGS