Block Champ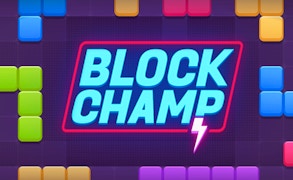 Block Champ
Prepare your brain for an invigorating workout with Block Champ, a captivating addition to the world of block games. With its uniquely challenging twists and turns, this game artfully takes inspiration from 10x10 classics but stands as its own entity in the realm of tetris games.
Anchoring itself firmly in the genre of brain games, Block Champ masterfully infuses traditional puzzle-solving elements with innovative ones. The goal remains simple at its core - fill up rows and columns using blocks to make them disappear. Simultaneously, managing frozen tiles sparks a new level of strategy. Clearing these frosty obstacles not once but twice provides gamers with a refreshing challenge - raising the stakes and pushing mental agility to its limits.
Fear not, though! You're not left completely in the cold. The game gifts you Lightning Tiles, your very own saving graces. Scoop up two in a single line, and voila! You'll see that line vanish instantaneously.
The scoring system in Block Champ is an enticing hook for all puzzle enthusiasts out there. With every simultaneous line clear, your score multiplier sees an exciting uptick! Strategizing your moves to optimize multi-line clears paves the way for skyrocketing scores that fills every player's heart with accomplishment.
No doubt, Block Champ is a brainy retreat that brings together the nostalgic appeal of Tetris and block games with inventive gameplay features. So gear up, get into your gamer's groove, and brace yourself for countless hours of strategic fun that will most certainly keep your grey cells buzzing!
What are the best online games?