Blast Red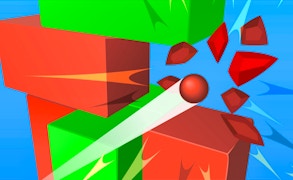 Blast Red
Unleash your gaming prowess in the thrilling world of Blast Red, an electrifying addition to the ever-popular ball games and skill games genre. This sensational arcade-style game perfectly captures the essence of strategic play, mixed with a blend of adrenaline-pumping action.
This uniquely captivating game, Blast Red, challenge players to not just destroy red blocks, but also protect the green blocks from succumbing to a watery grave. It's not just about destruction; it's a test of skill and strategy where every move you make holds the potential for victory or defeat.
The crux of Blast Red lies in its fascinating concept - shoot down all red blocks, but keep the green blocks safe. The adrenaline begins to rush as you see red block after red block disappearing beneath your skillful shots while keeping an ever-watchful eye on those green blocks whose safety is paramount.
The immersive experience offered by Blast Red sets it apart from other ball games. Its exceptional graphics and sound effects transport you into a world where every block counts, and every shot could be a game-changer. The gameplay aspect is equally impressive with its smooth controls that guarantee an enjoyable yet challenging gaming experience.
Blast Red also shines in terms of replay value. Each level brings on a new challenge that demands a different strategy, ensuring that you're always on your toes. With each victory, the game challenges you to step up your game even more.
In conclusion, Blast Red is a standout title in the realm of arcade-style skill games. Its unique blend of strategic measures and fast-paced action will captivate gamers who are looking for more than just another ball game. So step into the exhilarating world of Blast Red and let the gaming begin!
What are the best online games?
TAGS