Blackjack Vegas 21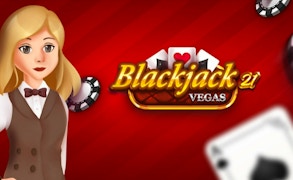 Blackjack Vegas 21
Introducing the sensational Blackjack Vegas 21, this classic card game redefines the realm of casino games and truly stands as an emblem in the world of poker games. It is a thrilling voyage where you face off against formidable house odds and a riveting exercise in strategy and skill; a testament to every player's craving for stimulating money games.
The game offers an authentic, stripped back blackjack experience, where the stakes climb high as you stack your chips against the house. The quintessential phrase "double, hit or stand" encapsulates the essence of Blackjack Vegas 21, challenging players to strategize their moves meticulously in hope of climbing to the top or risk it all with one fateful decision.
The simplicity of its gameplay shines without compromising thrill. You find yourself generously rewarded for bravery and seamlessly transitioning from rookie to pro as you delve deeper into this slickly presented game. Besides, when lacking chips or coming up short on luck, a cleverly instituted system grants you more; patiently wait for your fortunes to be replenished before plunging back into action.
The captivating allure of Blackjack Vegas 21 lies in its simple yet effective design. The game doesn't attempt to bewilder players with convoluted mechanics or dazzle them with flamboyant visual spectacle. Instead, it hones in on delivering an engrossing, heart-pounding casino experience from the comfort of your screen. The palpable tension and exhilaration that comes with every dealt card is nothing short of immersive.
Stand tall against the tide and let each round test your mettle because no matter what level you're at- Blackjack Vegas 21 has turned your screen into a vibrant casino floor buzzing with excitement and opportunity.
In conclusion, for those yearning for a no-nonsense gaming rendezvous packed with adrenaline, high stakes and rewards aplenty - Blackjack Vegas 21 is just the jackpot.
What are the best online games?