Blackjack King Offline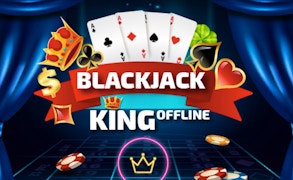 Blackjack King Offline
Delve into the electrifying world of casino games with Blackjack King Offline, a compelling twist on traditional Poker Games. This immersive, classic card game whisks you away to the heart of Vegas without the worry of losing real money. Injecting a fresh sense of excitement into card gaming, Blackjack King Offline offers a thrilling blend of strategy and luck that will keep you glued to your screen.
What sets Blackjack King Offline apart from other money games is its seamless blend of risk-free gaming and Las Vegas-style ambience. The developers have crafted an engaging environment where you can enjoy the adrenaline-fueled thrills of poker, without the pressure of betting real money. The casino feel is so authentic; you could practically hear the flicker of neon lights and the clatter of chips being stacked.
Intriguingly addictive, this game masterfully captures the essence of blackjack - a quintessential game in any casino arsenal. It's all about measured risks and strategic decisions, all neatly packaged into this compelling mobile game. You won't need an Internet connection to showcase your gambling prowess - play anytime, anywhere!
The allure doesn't stop there. Blackjack King Offline has crisp graphics that add to its appeal, providing an enjoyable visual experience as well as a riveting gameplay one. There's never a dull moment with this title in your pocket.
In conclusion, whether you're a poker pro looking for a convenient way to hone your skills or just someone looking for a fun way to pass time sans any financial risk - Blackjack King Offline is right up your alley. This game is not only fun and addictive but also an ideal choice for those longing for that real casino thrill.
Play Now! Feel the rush and excitement while perfecting your poker face at no cost! The virtual world of high stakes gambling awaits in this unrivaled classic card game – Blackjack King Offline!
What are the best online games?