Blackjack King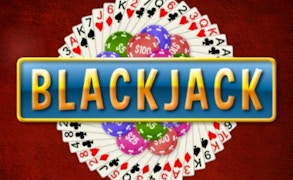 Blackjack King
Welcome to the thrilling world of casino games where every deal, every hit, and every stand matters. Dive headfirst into Blackjack King, a classic full-featured casino game that dominates the online gaming scene. Sharpen your strategic skills and challenge the dealer as you experience the exhilarating rush of the virtual blackjack table.
Blackjack King brilliantly captures the spirit of traditional poker games, offering a realistic gaming experience complete with vibrant graphics and immersive sounds that will transport you straight to Las Vegas. Whether you're a seasoned player or a newbie using this as your training ground, Blackjack King does not disappoint.
The rules? Simple! You have to beat the dealer by hitting, standing, doubling or splitting. However, it's not just about luck but strategy too. Work on your decision-making prowess as each step could significantly impact your potential winnings. The adrenaline rush to outsmart the dealer and earn big rewards is what sets Blackjack King apart from other casino games.
If poker is your casino game of choice, then Blackjack King brings it all - intensity, thrill, and exciting play tactics right at your fingertips. It's the closest you can get to real casino action without leaving your comfort zone.
You won't find an online game that strikes such a perfect balance between risk and reward. The possibilities are endless with Blackjack King. So put on your poker face and get ready to raise the stakes! This game is designed for those who love to take risks and reap lucrative rewards - a dynamic blend that ensures you keep coming back for more.
In conclusion, whether you're an aficionado of tactical battle or just seeking some fast-paced entertainment, step into this virtual world of unique poker games. Give Blackjack King a shot – it's high time to test both your nerve and fortune!
What are the best online games?
TAGS