Black Hole.io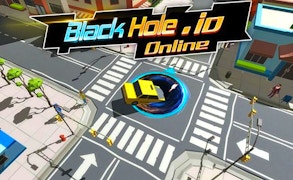 Black Hole.io
Welcome, gaming enthusiasts, to an exciting trip into the virtual abyss in the massively addictive world of Black Hole.io! This feast for .io genre lovers skillfully merges car games, survival games, and fun games into one captivating bundle.
The beauty of Black Hole.io lies in its simplicity. With a straightforward aim - to consume everything in sight and grow into the mightiest hole - the game hooks you in with unyielding excitement. Dwell in a neck-and-neck competition to claim the title of being the biggest hole in town. From devouring tiny bits on your path to eventually engulfing grand structures and rival holes, it's survival of the biggest!
The main charm of Black Hole.io is how seamlessly it entwines elements from car games and survival games. You start small, only able to absorb smaller objects. But be patient - continue feasting on what's available and soon enough, you'll be eating cars, buildings, and even your competitors! Show them who's boss by turning everything into nothingness!
Every element of this exhilarating .io genre game screams 'fun'. The competitive edge keeps you on your toes while its delightful aesthetics allow for a relaxing yet engaging gaming experience. An ultimate stress buster that is just impossible to put down.
In conclusion, it isn't an exaggeration to state that this unique fusion of car games, survival games and fun games has resulted in a masterpiece. Black Hole.io is exuberantly fun, ruthlessly competitive and immaculately designed – a must-play for gamers looking for their next .io obsession.
What are the best online games?