BITCOIN vs ETHEREUM DASH IOTA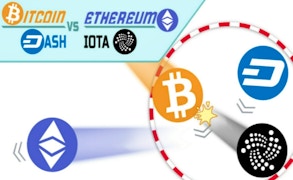 BITCOIN vs ETHEREUM DASH IOTA
Prepare to immerse yourself in the world of cryptocurrencies with the latest, exciting addition to the battle games universe - BITCOIN vs ETHEREUM DASH IOTA. This captivating new entry in the realm of fighting games fuses the vibrant, thrilling action of survival games with an intriguing twist involving digital currencies.
In what may be a groundbreaking crossover between gaming and crypto, this offline multiplayer game allows you to face off against computerized opponents, or for those seeking a real challenge, go head-to-head with friends and other players on your smartphone or tablet. The central premise of the game is deceptively simple: select your cryptocurrency coin, stay inside the circle, and attempt to dislodge your adversaries.
This isn't merely a game; it's a NFT game, forging into unexplored territory through integrating familiar gaming elements with a unique perspective on virtual currency. Each coin you control spins independently. Every nudge of your button sends your coin careening forward, causing chaos among other coins vying for the same space within the circle's confines.
Crypto and Blockchain games have gained significant traction recently and BITCOIN vs ETHEREUM DASH IOTA is no exception. The artistry involved in interlacing complex cryptocurrency concepts into a visually stunning battle arena creates an engaging experience that appeals not just to gamers but also to crypto enthusiasts.
The intrinsic thrill amplified by each push of a button as you send your coin hurtling towards rival coins is palpable. The ever-present challenge of maintaining composure while trying to force other coins out of bounds is starkly reminiscent of traditional survival games.
In conclusion, BITCOIN vs ETHEREUM DASH IOTA stands as an innovative beacon in fighting games blending two seemingly disparate worlds: gaming and cryptocurrency. It's a wild ride that demands strategy, precision, and most importantly - intense enjoyment for any fan seeking something more than just another battle game.
What are the best online games?