Billion Marble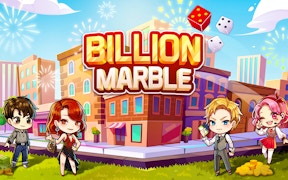 Billion Marble
Description
Engage in the thrilling world of real estate with 'Billion Marble'. This board game utilizes three dice, adding an unexpected twist to traditional city-building games. Roll the dice, land on a plot, and monopolize it by snapping up the property. Prepare to navigate through a myriad of in-game features as you strive to build your billion-dollar empire!
How to play
The game kickstarts with a roll of three dice. The numbers rolled will determine the land you land on. You have the choice to purchase this land and begin building your empire. Continue rolling, advancing, and buying until you successfully monopolize the board! Remember, strategy is key.
Tips and Tricks
Purchasing properties strategically is crucial for success. Aim for plots that are likely to be landed on by opponents frequently. Also, monitor your funds wisely - don't go broke buying every plot you land on! Remember - each roll is an opportunity for growth or risk.
Features
A blend of chance and strategy through dice rolls.
Diverse properties available for purchase to create your town.
A competitive two-player mode for a thrilling duel.
The opportunity to become a virtual real estate tycoon!
What are the best online games?