Billiard Classic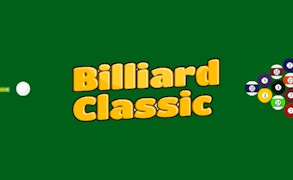 Billiard Classic
Description
Experience the thrill of a traditional ball game with Billiard Classic. This is no ordinary billiards game, it's all about speed and precision. Your objective is not just to pocket balls, but also to do it in record time. The authentic billiard experience combined with a unique time-trial twist makes this game intensely enjoyable.
How to play
The controls of Billiard Classic are easy to master. Use your mouse or touchpad to aim the cue, then click or tap and drag to set your shot's power. Release to hit the ball. Remember, the goal isn't just sinking balls, but doing so in the quickest possible time. Progress by clearing each round faster than previous tries.
Tips and Tricks
To excel at Billiard Classic, don't just focus on potting balls; consider your subsequent shots too. Plan a few moves ahead and position your cue ball accordingly after each shot. Achieving faster clear times is all about quick decision-making and precise aim.
Features
An authentic billiards experience in a unique speed-based format.
User-friendly controls that make the game accessible for everyone.
Challenging gameplay that tests your decision-making skills and hand-eye coordination.
The opportunity to set new time records and constantly strive for improvement.
What are the best online games?