Biker Lane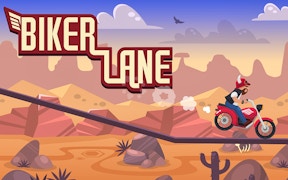 Biker Lane
Rev up your engines, race enthusiasts, as we put the pedal to the metal in this adrenaline-pumping quest: Biker Lane. This thrill-packed motorcycle game falls into the sphere of skill games, driving games, and the crowd's favorite, dirt bike games, making it a must-play for bike racing fanatics.
Your mission, if you choose to accept it, is to navigate your biker through a labyrinth of challenging roads, using your skills to boost and brake while tilting your bike left/right. Reach the flag at full throttle, all while attempting to best your previous record times for those coveted stars. Biker Lane is more than just a race against time; it's a test of skill, agility, and strategic planning.
The game begins with an interactive tutorial, that serves as a pit stop for beginners before they hit the road. The stars you earn are more than just bragging rights; they're your ticket to unlocking a garage full of cool characters. You can saddle up as grandma biker with her wicked sense of speed, enforce law and order as traffic police biker or revamp your image by choosing punk biker. For those who crave high-speed precision and control, go pro with pro biker.
The strategic element of Biker Lane comes into play with its unique panning function. With 20 challenging levels each more intricate than the last and ability to replay for high scores, you are given freedom to plan out your route. This adds depth to this high-octane speed fest making it as much about brains as it is about breaks.
Biker Lane doesn't just deliver bursts of fun on every race but packages it all in an upbeat theme that will resonate with Motorcycle and moto x3m enthusiasts alike. So buckle up for this breathtaking ride and may the best racer win!
What are the best online games?