Bike Racing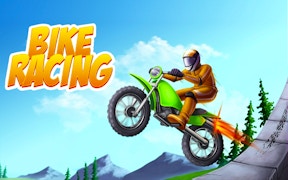 Bike Racing
Step into the exhilarating world of Bike Racing 3, an adrenaline-inducing entry in the realm of motorcycle games and driving games. This popular hill-climb racing game steps up the gear in its third iteration, offering an addictive, pulse-pounding experience that keeps gamers glued to their screens for hours on end.
In Bike Racing 3, you're not just battling against a ticking clock. Instead, you have the freedom to pick your preferred bike, zoom down endlessly challenging tracks, and push your virtual riding skills to the limit without worrying about time constraints. Every bike has its distinct prowess, allowing players to enjoy a varied driving experience across different terrains - from cruising over rolling hills with a scooter, jumping over sand dunes with the cross-bike, to braving arctic conditions with the heavy classic bike.
The thrill doesn't stop there. Each track is peppered with endless hills and obstacles designed to test your mettle. Add in the endless possibility of collecting coins, reaching checkpoints, and performing heart-stopping stunts for bonus coins – and each ride turns into an outrageously fun quest for glory!
To add more excitement to your ride, Bike Racing 3 lets you spend your hard-earned prize money on thrilling upgrades. Want more speed? Invest in a stronger engine. Looking for longer rides? Consider a larger tank. Need better control? Go for better tires! Plus, there's always a ghost representing your high score waiting to be beaten!
Overall, Bike Racing 3 takes motorcycle games up a notch with its engaging gameplay mechanics. It's free to play and guarantees hours of nail-biting races set across sprawling landscapes.
So strap on your helmet and kickstart your adventure in this thrilling addition to driving games - Play Bike Racing 3 now!
What are the best online games?