Bike Parking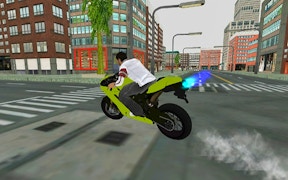 Bike Parking
Rev up your engines, gamers, it's time to dive into the dust and adrenaline-fueled world of Bike Parking, an undiscovered gem in the realm of dirt bike games and motorcycle games. Offering an intense experience that blends elements from driving and parking games, this compelling title is real feast for thrill-seekers and speed enthusiasts alike.
The game sets itself apart with its multi-layered levels, each presenting a unique challenge for those who dare to blaze the trail. Bike Parking takes the spirit of dirt bike games to an entirely new altitude by integrating tricky terrains and daunting obstacles that will keep you on edge from start to finish. With every successful maneuver and daring stunt, you'll find yourself further immersed into this world of fuel-powered excitement.
And it doesn't stop there. Another standout feature of Bike Parking is the array of motorcycle skins available to customize your ride. This variety, often unseen in typical parking games, gives players the chance to flaunt their style while conquering each level. Whether you're into classic designs or modern aesthetics, there's a bike skin that suits your tastes.
Bike Parking goes beyond other driving games by adding complexity and depth through its engaging parking mechanics. It puts players' precision skills to test in ways other motorcycle games seldom do. Successfully navigating through each level isn't just about speed; it's about strategy, control, and a keen sense for spatial awareness.
In conclusion, Bike Parking is a must-try title that blurs the line between dirt bike games and parking games with its thrilling blend of speed, strategy, and customization options. It serves as a testament that motorcycle games can be more than just arcade-style races—they can be skill-based tests of precision too! So hop on your digital hog, suit up and take on the challenges Bike Parking offers today!
What are the best online games?