Big Wheels Monster Truck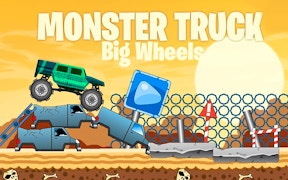 Big Wheels Monster Truck
Step into the land of car games with a twist, as we introduce you to the colossal power-packed experience of the Big Wheels Monster Truck game. A king among truck games, this is not just about driving; it's about dominating the track and leaving destruction in your wake.
If you've been seeking an exhilarating experience in the world of driving games, then this marvelous monster truck mayhem is right up your alley. The concept is simple yet outrageously fun: You get to take control of a thundering monster truck with mammoth tires, built to crush anything that lies in its path. Your goal? To smash through cars and navigate through various obstacles as you strive to reach the end of the track.
Big Wheels Monster Truck transforms the essence of monotonous car games into an electrifying spectacle of pure power and sheer dominance. You don't just navigate or maneuver around obstacles - you plow through them, flexing the might of your monstrous vehicle.
The trucks are designed to be massive, dynamism personified in their every pixel; they're virtually invincible - a testament to their name. The exciting gameplay along with stunning graphics make this game a standout amongst not only truck games but also in the larger realm of driving games.
The thrill factor lies in this relentless destruction coupled with fast tracks and heart-pounding action. In conclusion, if you're tired of standard car games or looking for something more from your regular truck games, turn that ignition key on for Big Wheels Monster Truck.
What are the best online games?