Bff Christmas Cookie Challenge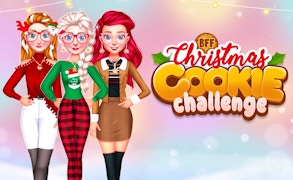 Bff Christmas Cookie Challenge
Description
Get ready for some festive fun with the Bff Christmas Cookie Challenge. This delightful game allows the player to step into the shoes of a princess and engage in a friendly face-off against her friends. The challenge involves designing and decorating Christmas-themed cookies. With a myriad of pastry tools at your disposal, creativity is key in this joyous endeavor.
How to Play
To play, use your mouse or touch controls to select and apply cookie designs, icing styles, and decorative elements. Combine these elements wisely to create elaborate, appealing cookies. Each decision could lead you to victory or defeat. The game progresses as you continue to outshine your opponents in each festive bake-off.
Tips and Tricks
Being imaginative can give you an upper hand in the competition. Mixing up vibrant colors, trying new designs, and using unconventional decorations can help make your cookies unique. Remember, it's not just about taste but also about presentation.
Features
Engaging gameplay: Players can compete against computer-controlled characters, providing a fun challenge.
Innovative design tools: A plethora of tools are at player's disposal to design a creative range of cookies.
Creative freedom: Offers players complete freedom in their design choices for cookie decoration.
User-friendly interface: The game has a simple and intuitive control system, suitable for children.
What are the best online games?