Best Classic Solitaire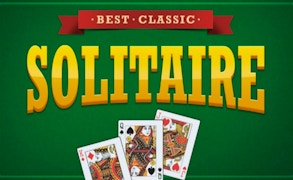 Best Classic Solitaire
Step into a world of strategy and careful planning with Best Classic Solitaire, a standout among solitaire games. This gem brings back the timeless feel of age-old card games, all within the digital realm. No doubt, it's a serene retreat for solitaire enthusiasts.
Classic Solitaire Deluxe is not just another solitaire game; it's an avenue to challenge oneself. Your main task is to move cards from the tableau to the foundation piles. It sounds simple, doesn't it? But, that's the beauty of this game - simplicity intricately wrapped in captivating complexity.
Classic Solitaire Deluxe is more than just a pastime. It tailors an experience that encourages you to improve your game skills. By tracking your statistics, the game pushes you to up your game every time you play.
This game includes thoughtful features that cater to everyone's gameplay preference. Whether you're a beginner or an experienced solitaire player, Classic Solitaire Deluxe is ready for you. You can easily switch between 1 card draw or 3 card draw. This flexibility in choice only cements why Best Classic Solitaire truly dominates amongst other solitaire games.
Furthermore, this engaging card game gives you control over how you want your cards displayed - be it in left or right alignment. This level of customization adds a nice touch and further increases user-friendly experience.
In conclusion, Best Classic Solitaire embodies each aspect of classic solitaires games we love and hold dear while adding its unique touches that make it deluxe. It's more than just a game; it's a captivating journey into the heart of solitaires. A true testament to how far solitaire games have come!
What are the best online games?
TAGS