Battleships Armada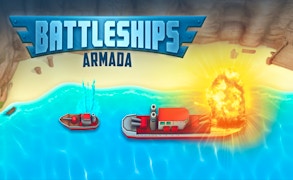 Battleships Armada
If you're a fan of nail-biting battle games and mind-stretching brain games, the return of the iconic board game, Battleships Armada, to your computer screen is going to excite you.
Strategic plays and epic battles have always been a major draw for gamers, and Battleships Armada exquisitely mixes the two genres in a brew that will keep you hooked for hours.
The premise is simple, yet additive - strategically place your fleet and start anticipating your cunning computer opponent's moves. However, with this digital reincarnation of the all-time classic board game, it's much more than just hit-or-miss. Your keen intellect and battle prowess are up against not just an opponent, but an insidious AI that adapts and learns.
That's where Battleships Armada stands head and shoulders above other battle games. It's not just about guessing where your computer adversary stashed their ships; it pushes you into embracing unique strategies and tactics. It demands from its players not only their combative spirit but also their intellect, giving it a strong footing in the realm of brain games.
The game is as much about fierce naval combats as it is about strategic planning, allowing you to flex both your warrior muscles and mental sinews in equal measures. In other words, Battleships Armada challenges you on various fronts rather than being one-dimensional.
Battleships Armada is a familiar name with an enticing new spin that has successfully managed to stay true to its roots while venturing into uncharted territories. Whether you're pining for the nostalgia of the original or searching for a fresh strategic challenge - this game won't disappoint.
What are the best online games?
Tags