Battle Cars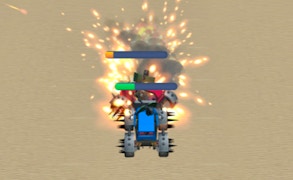 Battle Cars
Welcome to an exhilarating fusion of car games, battle games, and survival games. Enter the thrilling and ruthless world of Battle Cars:
Achingly intense, Battle Cars is a heart-pounding concoction of high-speed racing leveraged with thrilling combat and extreme survival. Imagine the adrenaline-fueled suspense of survival games, the strategic planning required in battle games, all injected into a high-octane car game scenario, and you've got Battle Cars.
The game fosters an unparalleled sense of exhilaration as you drive your car at reckless speeds while collecting vital equipment on the track. Don't be mistaken, these are not mere pickups - they are your lifeline, your secret weapons for survival in the relentless arena. Each piece of equipment collected adds a unique twist to your battle strategy, turning every confrontation into a nail-biting experience.
Once you rev into the arena, there's no room for weakness; this is where the real challenge begins. The mission? Defeat all opponents and claim victory. Feel your heart pound as you engage in high-speed chases with formidable opponents, delivering crushing blows with precision-guided missile launchers and high-powered guns.
Battle Cars does an exceptional job of blending thrilling car chases with strategic combat elements. The sense of danger is palpable as you weave through enemy fire or send rivals spiraling with well-aimed shots. The powerful combo of speed, strategy, and survival will have you hooked from the very first race.
In a realm where speed meets survival, Battle Cars stands out as a must-play title for fans of car games, battle games or survival games alike. Whether you're here for the pulse-quickening races or brutal vehicular combat - buckle up! It's about to be a wild ride.
What are the best online games?