BasketBros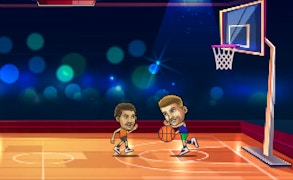 BasketBros
Even if you have no interest in basketball, it's worth it to spend some time shooting the ball in a friendly game or solo to appreciate the spectacle of BasketBros. Perhaps even more prominent than watching officially recognized basketball games is watching games between teams and all their upcoming players. This 2D game mixes it up by focusing on some of the young names in basketball along with some very weird or random choices. There's quite a selection, so you enjoy yourself as you try out each one to get a feel for their movements and stats so that you can come out on top.
About BasketBros
You can argue that Basketball is one of the most stylish sports out there. Even in the most professional games, some players can't help but show off their skills as they fly across the court or take literal long shots to score points. This is something you can feel a bit for yourself as you play through matches here against the computer, local players, or online against others who wonder about basketball. It's mainly about the visual flash and flair that can draw you into the bright and exciting world that is professional basketball. You'll want to give a show as you score points.
How to Play
BasketBros is a 2D versus game about playing one-on-one basketball games with just the keyboard. Depending on how you're playing, you'll be using certain keys.
P1 Controls
W - Jump and Shoot (double tap)
A - Move Left
D - Move Right
S - Crouch
G - Elbow
P2 Controls
Up Arrow - Jump and Shoot (double tap)
Left Arrow - Move Left
Right Arrow - Move Right
Down Arrow - Crouch
L – Elbow
No matter which way you're playing, you'll always be in a one-on-one match. There are no other players or obstacles to focus on, it's just you and the other player. You can grab the ball simply by touching it and you'll automatically dribble while you have it. The goal is to score as many baskets (points) as the other player before time runs out. Each match is split into four quarters which resets ball possession after it happens. This also happens when a player makes a basket. Although you can shoot from a range, if you try to shoot when close to the basket, you'll perform a slamdunk which is almost a guaranteed 2-point basket.

Tips and Tricks
After getting some practice in, you'll be tempted to go for the dunk every time as will our opponent. You should only do this if you're behind your opponent and you can block theirs by jumping to meet them at the basket. The elbow is not a snatch, so time it carefully to use it as the player runs toward you.

BasketBros Game Modes
Basketball can be a complex game and this video game version offers several game modes in which to experience it. You'll start only with four players to choose from, but you can unlock more by playing matches.
Practice - Get a feel for the controls and players on an empty court.
Tournament - Choose a player and take them to the top by beating every opponent they face.
2 Player - Challenge a friend nearby to play a versus game with you.
Online - Challenge a player in another part of the world by joining their game or hosting your own.

Game Details
Developer: Blue Wizard Digital
Platforms: Web Browser (PC and mobile)
Languages: English
Gameplay Footage
FAQs
Is this game connected to 2K?
Among all the sporting-related video game brands, 2K is definitely up there but BasketBros is unrelated to them.

Games similar to Basket Bros
Since this is a sports and basketball title, you can easily find it in the Sports and Basketball Games categories of GamePix. Other games in those sections are Crazy Kick, Baseball Pro, Ragdoll Mega Dunk, and Street Ball Jam.
What are the best online games?