Basketball Tournament 3D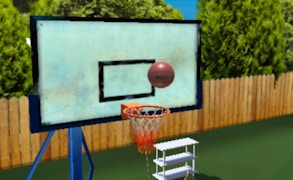 Basketball Tournament 3D
Engage in the world of ball games like never before with the electrifying and sublime experience of Basketball Tournament 3D. Stepping onto the virtual court has never felt so real, so intense or so breathtakingly competitive. This game takes basketball games to an unprecedented level, offering an immersive gaming experience that is second to none.
The allure of Basketball Tournament 3D lies in its distinct and innovative gameplay dynamics. The thrill of participating in a free throw competition, combined with the opportunity to sharpen your skills in six unique modes, makes this game not just intriguing but downright addictive. The beauty of this game is that it quenches the thirst for challenge in both novice and seasoned gamers due to its variable difficulty settings.
The Basketball Tournament 3D sets itself apart from other ball games by introducing a unique scoring mechanism. As a player, you are rewarded with 2 points for every standard shot made into the hoop. But here's where it gets interesting - shooting a clean basket, regardless of how far you are from the hoop, earns you 3 points! Meaning, precision and skill are more important than mere brute strength and distance.
The game further amplifies the excitement by integrating streak bonuses into gameplay. Consistently score baskets and witness your basketball transform into a fiery entity, adding more intensity to your consecutive shots. Plus, using backboards to score opens doors to receiving lucrative backboard bonuses.
In conclusion, Basketball Tournament 3D successfully morphs traditional basketball games into a captivating digital spectacle that will leave you at the edge of your seat. Whether you're looking for an adrenaline rush or a strategic mind exercise through sports simulation- this game serves all purposes. Dive into this immersive basketball universe and let your skills shine on center stage!
What are the best online games?