Basketball Star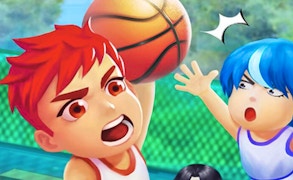 Basketball Star
If you're searching for the finest kids' sports gaming experience, Basketball Star is a game you absolutely must try. This incredible 3D basketball game is one of the most thrilling ball games available for young gamers today. Here's a full lowdown on this exciting and competitive children's title:
At its core, Basketball Star is a game about harnessing raw talent and transforming it into veritable sporting prowess. Your role? To round up a group of promising basketball stars, train them, guide them to perfection, and ultimately shape them into champions of tomorrow. In the vast universe of Games for Kids, few venture into such unparalleled levels of involvement and thrill.
The game's mechanics are both simple and addictive. By collecting shoes and shirts within the game, players can significantly improve their abilities while passing chapters reward the player with coins, adding to the excitement factor. But what truly sets Basketball Star apart is not only its captivating gameplay but also its breathtaking graphics. The 3D visuals bring every slam dunk to life in spectacularly vibrant fashion.
So whether your little ones are die-hard basketball fanatics or just enjoy active sports games, Basketball Star caters to all with a kid-friendly approach that still holds onto the fun competitiveness found in adult sports titles – a tricky balancing act that it carries out with absolute flair.
In conclusion, when it comes to basketball games, and indeed most ball-based sports games designed for children, Basketball Star is unrivaled in delivering superb gameplay combined with stellar graphics - making it an essential pick-up for any sports-loving kid.
What are the best online games?