Basketball serial shooter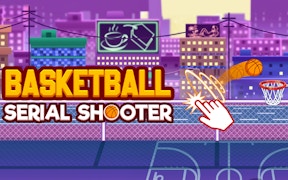 Basketball serial shooter
If you're an ardent fan of ball games, particularly basketball games, then 'Basketball Serial Shooter' is a game you can't simply refuse to sink your teeth into. This game does more than merely capturing the true essence of thrill that comes with playing real-life basketball; it wittingly draws out the inner competitor in you, making you thirst for nothing less than victory.
Imagine yourself as a basketball serial shooter, on a mission to master your skills and rise through the ranks. The premise of the game is both simple and engaging - harness your shooting skills like never before to outclass your rivals. The creators have ingeniously adopted real-life physics which amplifies the fun quotient, adding an exhilarating twist to the gameplay - a factor that sets it apart from other typical skill games.
The challenges presented by 'Basketball Serial Shooter' extend far beyond shooting hoops. Expect rebounds, wind resistance, and a host of obstacles fighting against every shot you take. Mastery of these elements is what determines your success or defeat in this thrilling basketball saga. Frustrating as they might initially be, they enhance the realistic feel of the game and make every dunk feel like a hard-earned victory.
'Basketball Serial Shooter' is brimming with opportunities for players to polish their strategic edge while indulging their passion for basketball. It relishes in delivering tricky scenarios that challenge players to either adapt or face inevitable defeat. To sum up, whether you're an enthusiast of ball games or an ardent fan of skill games, 'Basketball Serial Shooter' will undoubtedly spike your gaming adrenaline while challenging your strategic prowess.
If you're looking to explore beyond conventional basketball games or seeking a productive outlet to develop your strategy-making skills, 'Basketball Serial Shooter' is sure to keep you hooked for hours on end.
What are the best online games?