Basket Swooshes Plus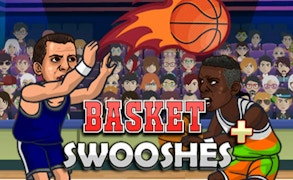 Basket Swooshes Plus
Welcome to our thrilling review of the newest sensation in the world of sports games, the ultimate basketball experience: Basket Swooshes Plus. This immersive game immerses players in a virtual court where only their skills and cool head dictate the outcome.
In the realm of ball games, Basket Swooshes Plus stands supreme. It goes far beyond casual gaming, drawing you into a world where every swoosh matters; where running, dribbling, and shooting all come into play. The game mechanics are superbly designed to deliver an adrenaline-filled gaming experience that's both challenging and fun.
The first thing that sets Basket Swooshes Plus apart from other basketball games is its multiple game modes. The World Cup mode allows you to compete against teams from around the globe. Can't travel? No problem! This game brings international competition right into your living room.
The Time Challenge mode puts your basketball prowess to the test like no other. Here, every second counts as you attempt to make as many swooshes as possible before time runs out. This highly engaging mode will have you on the edge of your seat with its exhilarating pace.
Last but not least is the 2 Players mode – a delightful addition for those who love two-player games. Want to show off your amazing dunks and layups? Challenge your friend and pit your skills against each other on two devices. Let's see who comes out victorious!
In conclusion, Basket Swooshes Plus isn't just a game; it's an adventure that takes you right into the heart of the basketball action. Whether you're a sports enthusiast or just looking for some fun, this game delivers an unmatched experience in terms of gameplay, graphics, and excitement. So what are you waiting for? Lace up your sneakers and get ready for some serious swooshes!
What are the best online games?