Basket Slam Dunk 2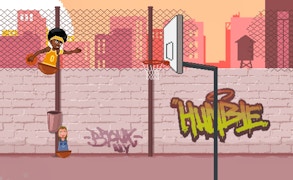 Basket Slam Dunk 2
Are you in search of a thrilling blend of action and strategy to showcase your basketball expertise? Look no further than Basket Slam Dunk 2, where sports fanatics will be thrilled by this next-gen edition of popular basketball games. It is a sublime blend of ball games and skill games that promises countless hours of challenging fun.
Basket Slam Dunk 2 is not just another run-of-the-mill entry in the world of basketball games. Its one-touch control system is a refreshing change, propelling you straight into hard-hitting, high-scoring action as you slam dunk your way to victory. The game isn't just about scoring the most spectacular baskets- it's also about strategy, keeping players on their toes throughout their gaming experience.
Boasting a riveting single-player campaign, Basket Slam Dunk 2 also provides an exciting multiplayer arena for competitive individuals. Whether you're playing against the CPU or challenging your friend on the same screen, the game presents equal measures of fun and challenge. Not bound by location, gamers can even test their skills online against rivals from across the world, heightening the stakes as you prove to be the best player.
The nimble action-packed sequences make this game one of the more addictive entries into the realm of ball games and fun games. With its engaging gameplay mechanism and dazzling graphics, Basket Slam Dunk 2 guarantees to keep your adrenaline levels high while keeping you hooked with its captivating narrative.
In conclusion, if you're a fan of sports games looking for an immersive basketball experience with a twist, Basket Slam Dunk 2 is a slam dunk choice for you! It brings together all aspects of thrilling gameplay - addictive mechanics, stunning visuals, and highly competitive multiplayer modes to provide an unforgettable gaming experience.
What are the best online games?