Balls Race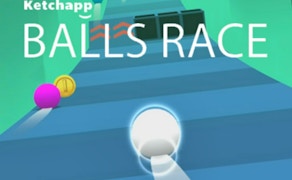 Balls Race
Embrace the thrill of competition with Balls Race, a high-octane digital dash that puts your dexterity to the ultimate test. This addictive arcade game is a vibrant fusion of traditional ball games and an adrenaline-pumping race to the finish line.
You'll fall in love with the simplicity of Balls Race. The game has one straightforward objective, but don't let that fool you - this is one of those deceptively simple skill games that are easy to understand, yet daunting to master. Your fingers will be dancing across your device as you guide your ball past imposing obstacles at blistering speeds. Winning isn't just about speed, though – precision and timing are just as crucial.
The most rewarding aspect of Balls Race is its addictive gameplay. It's a game that asks 'one more try' from you constantly, and you will willingly oblige because each playthrough is a unique experience. The levels evolve with increasing difficulty, catering to gamers who savour a good challenge and never shy away from 'one more run'. It's this exact quality that truly marks Balls Race as one of the most addictive games in the arcade genre.
In summary, if you're searching for an exciting new addition to your gaming library, look no further than Balls Race. This dynamic mix of racing and ball games offers countless hours of exhilarating entertainment. The high-speed action, paired with its demanding skill-based gameplay makes it a worthy contender for your attention. So, ready your reflexes and let the balls roll into a realm filled with excitement and endless fun!
In short: balls race? More like pulse race!
What are the best online games?