Ball Wall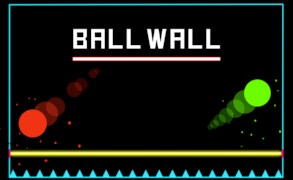 Ball Wall
Channel your inner pinball wizard and test your reflexes in Ball Wall, an innovative addition to the hard-as-nails world of arcade ball games and skill games. This dynamic arcade experience will keep you on the edge of your seat, eagerly attempting just one more round to best your high score and prove your prowess. One thing is certain: with Ball Wall, there's never a dull moment.
In Ball Wall, simplicity is key. There's no need for flashy gimmicks or convoluted systems; this game proudly carries the spirit of traditional arcade games. Like an evolved form of brick breaker - minus the bricks - Ball Wall challenges players to manipulate a movable platform to ensure the ever-accelerating ball doesn't plummet into oblivion. Your skill and precision are constantly tested as the ball accelerates at breakneck speeds.
The exhilarating action is complemented by easy-to-learn controls that ensure you're bouncing your way towards high scores in no time. The platform moves fluidly under your direction, responding instantly to even the slightest twitch of your fingers. Despite its minimalistic design, Ball Wall delivers an addictive gameplay loop that'll have players hooked from their very first bounce.
Apart from testing your reflexes, Ball Wall offers a deeper layer that engages casual gamers while challenging die-hard arcade fans. It's not only about keeping that bouncing orb within bounds; it's also about maintaining a rhythm, anticipating trajectories, and honing lightning-quick reflexes. In doing so, it elevates itself from being just another entry in the crowded market of ball games - it carves its niche as an enthralling dance between player skill and random chance.
In conclusion, Ball Wall offers a unique blend of simplicity and complexity that makes it stand out in the world of arcade ball games. If you're up for an addictive challenge that ramps up in difficulty with every pass, plunge into Ball Wall today!
What are the best online games?
TAGS