Ball Picker 3D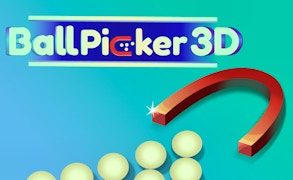 Ball Picker 3D
Entering the electrifying world of arcade gaming, Ball Picker 3D, a thrilling addition to the ball games genre, challenges your reflexes and strategic thinking like never before. This 3D physics-based hyper-casual game puts you in control of a scoop, making it a standout in the roster of Skill Games. It's not just about collecting balls – it's about strategizing and timing to maximize your scores.
In Ball Picker 3D, gameplay is deceptively simple yet addictively fun. Your mission is to carefully manipulate your scoop, gathering balls as you navigate through dynamic courses and dropping them into a pit. With every successful drop, you're rewarded with coins which can be used to unlock an array of stunning new skins – an excellent incentive for those with the competitive streak!
The real charm lies in its simplicity - an attribute typical of many successful Hyper Casual Games. Yet the game delivers an immersive experience through its lifelike 3D physics, ensuring that each ball behaves realistically in response to your actions. Combine that with the smooth controls and clear graphics, you'll find yourself losing track of time as you strive for that perfect run.
The game strikes a fine balance between casual pick-up-and-play accessibility and the depth found in classic arcade games. Whether you're looking for a quick gaming session or a long-term skill-based challenge, Ball Picker 3D has something to offer.
In conclusion, Ball Picker 3D is a thrilling journey into the realm of skill games that shouldn't be missed by any ball games enthusiast. Its seamless blend of strategy and action makes it a must-play title in your arcade collection.
What are the best online games?