Ball Merge 2048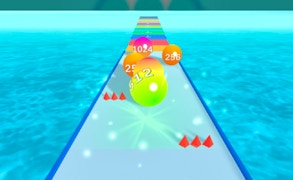 Ball Merge 2048
Immerse yourself in a thrilling world of numerical chaos with Ball Merge 2048, a standout among 2048 games, ball games, and number games. This simple yet exciting arcade game defies the traditional norms of gaming and intrigues the player's curiosity, making it an absolute must-play for all.
Right off the bat, you're greeted with a humble ball number 2, your main tool for survival in the increasingly challenging environment. Navigating through tricky bridges and dangerously sharp spikes, your mission is to feed this hungry little sphere. The food? Its identical twin! By collecting multiples of number 2, you fatten up your ball, aiming to breach the mammoth goal of reaching the 2048 ball. Colorful graphics and fluid movements make this experience visually stunning while the strategic challenges ensure that you're mentally stimulated throughout.
Through different stages of the game, you go from a whimsical casual player to an obsessed strategist as levels get harder. The intensity doesn't plateau; it soars as your target increases exponentially from a meager ball number 2 to an intimidating 2048 ball. Every successful merge feels like a victory; every spike encounter, a setback. The ebb and flow of triumph and defeat playfully toy with your emotions.
Ball Merge 2048 creates an addictive rhythm that keeps you on edge. Each merge brings joy, each level conquered gives satisfaction, and every failure fuels determination. This isn't just one of those regular arcade games; it is an enigma wrapped in numbers waiting to be solved. If you are someone who thrives on challenging number games that keeps your brain cells firing or simply loves unique ball games that add spice to fun, then Ball Merge 2048 should notch up top on your gaming bucket list.
No matter if you're playing casually or grinding it out trying to achieve the elusive 2048, Ball Merge 2048's captivating charm will leave you hooked for hours on end.
What are the best online games?