Backflip Adventure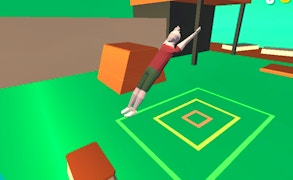 Backflip Adventure
For all the sports games lovers and particularly those with a soft spot for gymnastics games, get ready to get your heart racing and your thumbs working with Backflip Adventure, a hyper-casual game that merges the thrill of gymnastics with the exhilaration of parkour. This game is not just about flipping, it's about exploring various locations and honing your skills to land on specific targets.
Backflip Adventure takes you on a journey where normal cityscapes suddenly become your playground. Whether it's the classic cityscape or a spooky haunted house, or even a visually stunning island – every location is an opportunity to flex your backflipping skills. The whole goal is to perform impressive somersaults that can score you more points. This thrilling feature alone makes Backflip Adventure stand out among other Skill Games.
What I find particularly exhilarating about this game, aside from the actual gameplay, is its high-quality graphics and exceptional detail in each level which makes it one of the more immersive Hyper Casual Games. Every level provides its own unique set of challenges and adds not only a new colourful location but also different obstacles to overcome while flipping back and forth.
In conclusion, whether you are an experienced gamer looking for your next go-to casual game or new to the gaming world looking for something fun-filled to hone your gaming skills, Backflip Adventure is definitely worth considering. It offers both an enjoyable casual gaming experience along with an opportunity to challenge yourself in a variety of unique settings.
Mirror the abilities of the world's finest gymnasts, defy gravity, and embark on your very own Backflip Adventure!
What are the best online games?