Babysitter Crazy Daycare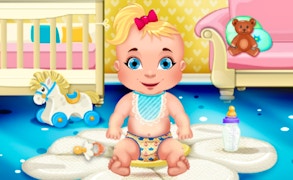 Babysitter Crazy Daycare
Welcome to the whirlwind world of Babysitter Crazy Daycare, one of the most delightful toddler games that adds an extra layer of fun and engagement in the genre of games for kids. If you ever thought babysitting was easy, this game is sure to challenge that assumption, offering a unique blend of responsibility, creativity, and hilarity.
This game definitely stands out in the sea of games for girls, effortlessly weaving elements of care-giving, problem-solving and quick thinking. As a babysitter in this game, parents are counting on you to handle their restless tots while they take a much-needed breather. The urgency is real but so is the joy! Every action you take has direct consequences, entwining you in an exciting narrative that fully showcases the highs and lows of babysitting.
The gameplay in Babysitter Crazy Daycare is intuitive and entertaining. Each task you face -whether it's feeding a hungry baby or soothing a crying one- requires strategic thinking. Its demand on multi-tasking abilities makes it a perfect pick among toddler games. The challenge mounts as you progress through levels; each day in the virtual daycare brings new tasks which test your skills even further.
The whole aesthetic of the game manages to capture the chaos and charm that comes with caring for little ones. The colourful graphics are sure to fascinate younger players, making it an excellent choice for those seeking engaging games for kids. The sounds effects are immersive too, giving players a real-life experience of managing a busy daycare.
In conclusion, Babysitter Crazy Daycare offers an escape from regular baby games, delivering an unmatched blend of fun, adventure and responsibility. It teaches valuable lessons about caregiving while providing countless hours of entertainment. This game really does tick all boxes for being one of the best games for girls.
What are the best online games?