Baby Hazel Ballerina Dance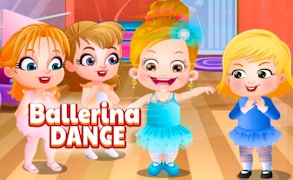 Baby Hazel Ballerina Dance
Description
Experience a fun and exciting day in the life of Baby Hazel in the game Baby Hazel Ballerina Dance. Embark on a delightful journey where Hazel receives surprise presents and learns to perform ballet. However, our little protagonist is a bit apprehensive about her dance lessons. Your role is to encourage Hazel and boost her confidence, helping her follow her dance instructor's directives with ease and assurance.
How to Play
The game utilizes simple point-and-click mechanics suitable for little girls and toddlers. Manage Baby Hazel's routine tasks by clicking on the objects shown in the prompt and guiding her through different activities. As the game progresses, help Hazel follow all the ballet lessons given by her teacher to keep her happy and excited.
Tips and Tricks
Paying careful attention to Baby Hazel's mood indicators will help advance faster in the game. Respond swiftly to her needs ensuring she's content, as this increases your score. Also, use the hints provided during ballet sessions for better guidance in teaching ballerina dance steps to Hazel.
Features
User-friendly interface: Easy navigation suitable for toddler gamers.
Vibrant graphics: Colorful visuals to keep players engaged.
Educational: Teaches about everyday routines and ballet dancing.
Mood-based scoring: The happier Baby Hazel is, the more points you earn!
Fully Interactive: Full engagement with interactive tasks throughout the game.
What are the best online games?