Baby Dolls: Surprise Eggs Opening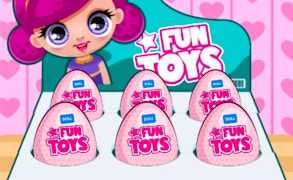 Baby Dolls: Surprise Eggs Opening
If you're seeking an interactive adventure filled with excitement and delight that's suitable for our young gamers, look no further than Baby Dolls: Surprise Eggs Opening. A game that traipses through the universe of enchanting surprises perfect for hours of exhilarating fun. Tagged under multiple categories like Games for Girls, Baby Games, Games for Kids, and Clicker Games, it is designed to stimulate curiosity and foster a sense of wonder in children.
This is not your ordinary clicker game; Baby Dolls: Surprise Eggs Opening is a thrilling experience wrapped in layers of suspense. Kids will be on the edge of their seats, tapping at the brightly colored eggs, eager to unveil the marvels lurking within them. This high-level interactivity is sure to keep those tiny fingers clicking non-stop, making it an irresistible choice among other baby games.
From delightful toys to charming characters, every surprise egg reveals a treasure trove that will make children squeal with joy. The surprise opening eggs LOL feature is a charming element that brings an added layer of excitement to the game. The thrill of anticipation as each surprise is unveiled gives this game a unique edge over other typical games for girls and boys.
The vibrant graphics and intuitive gameplay make Baby Dolls: Surprise Eggs Opening a must-have in your collection of kid's games. The surprise factor imbued in every aspect of the game makes it an exciting journey, akin to a mini treasure hunt with each egg.
In conclusion, if you have little ones who relish uncovering surprises or if you're just looking for some quality screen time that sparks joy and fuels creativity, Baby Dolls: Surprise Eggs Opening is surely one egg-ceptional choice. It combines all the elements of enjoyable gameplay - thrills, surprises, easy controls - making it an undeniably remarkable addition to any kid's gaming repertoire.
What are the best online games?