Avocado Puzzle Time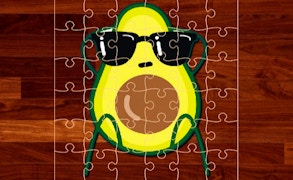 Avocado Puzzle Time
If you're searching for fun games to entertain your little ones, exercising their minds while keeping them thoroughly engaged, look no further than Avocado Puzzle Time. This vibrant puzzle game is a delightful blend of fun and cognition, ideal for kids and even enjoyed by adults.
Designed as a brain game, Avocado Puzzle Time challenges players by dispersing tiny pieces of a cute, full-bodied avocado across the screen. The objective? To reconstruct the sweet fruit to its picture-perfect glory. Unlike other games for kids, this one doesn't pressure you with time constraints. This game encourages its players in an environment free of rush or panic, encouraging precise thought and decision making.
The magic of Avocado Puzzle Time lies in its simplicity. It's not just a puzzle; it is an enjoyable journey towards the triumphant accomplishment of creating a masterpiece – your very own smiling avocado! It's like piecing together an intriguing story, with each puzzle part revealing more about our green, friendly protagonist.
In terms of visuals, the game features bright colors and lovable images that kids adore while maintaining an easy-to-use interface that makes navigation a breeze. The soothing background music adds depth to the experience, making it more immersive and captivating.
The best part about Avocado Puzzle Time? It's suitable for all ages! From preschoolers experimenting with their problem-solving skills to adults indulging in a delightful brain exercise during their break time; everyone can enjoy this exciting journey of piecing together their very own avocado.
In conclusion, if you are on the hunt for engaging yet challenging games for kids, set your sights on Avocado Puzzle Time – where fun meets intellect in the most delightful way possible.
What are the best online games?