ATV Quad Bike Impossible Stunt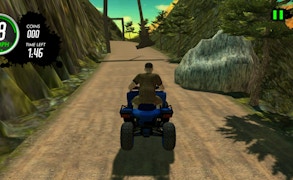 ATV Quad Bike Impossible Stunt
Welcome to the adrenaline-fuelled world of ATV Quad Bike Impossible Stunt, strategically designed for the brave-hearted fans of car games, motorcycle games, and flamboyant lovers of offroad games. This is not your conventional, overly-boring playground. Oh no, you are in for a thrill ride!
This chaotic concoction of extreme fast, powerful ATV Motor Bikes and dusty offroad trails will jolt you out of your seats, gloriously blurring the lines between driving games and daredevil stunts. You think you've played all there is in the realm of dirt bike games? Wait until you embark on this audacious journey.
ATV Quad Bike Impossible Stunt brings to life, an exhilarating display of skill, speed, and gut-wrenching stunts. At every turn, at every heart-stopping jump on those treacherous offroad mountaineer trails lies an opportunity - an opportunity for glory or a dash back to the drawing board.
The outstanding graphics combined with realistic physics catapults this game to unprecedented heights in its genre. The breathtaking landscapes accompanied by intense gameplay are sure to keep you captivated. This is not just a game; it's a battlefield where only the boldest survive.
With every rev of your ATV Motor Bike engine, prepare for an adventure like none other. Strap in and hold tight! It's time to redefine boundaries in one of the best offroad racing games out there. Are you ready to rev your engines in the sterling world of ATV Quad Bike Impossible Stunt? Your adventure awaits!
What are the best online games?