ATV Cruise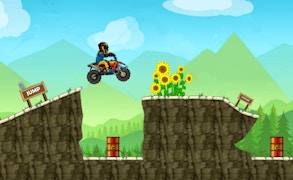 ATV Cruise
If you're in need of the thrill associated with driving games, particularly the off-roading variant, or if you simply yearn for a piece of the extreme action that comes with motorcycle games, bmx and dirt bike games, then ATV Cruise is your next stop. This heart-pounding game built around powerful all-terrain vehicles thrusts you into some challenging yet exhilarating hilly terrains that will test your reflexes and tactical approach to racing.
The prime aim is to guide your ATV up and around rugged landscapes, steering clear of various obstacles littering the trail. Every successful navigation towards the finish line does not merely symbolize a victory, but it's a testament to your control and quick thinking, hallmarks of all seasoned bikers in reality-based motorcycle games.
What sets ATV Cruise apart from other run-of-the-mill dirt bike games, is its uncanny ability to replicate real-world physics in-game, rendering an immersive experience that's sure to have you at the edge of your gaming seat - or couch - as you rev up across unpredictable terrains.
ATV Cruise is not just another addition to the vast collection of driving games. It's a whole new beast that elegantly combines elements from bmx games with unforgiving off-road landscapes and necessities of quick reflexes. Whether it's about maneuvering through stony paths or maintaining balance over steep climbs, ATV Cruise rewards strategic thinking and precise controls.
Ride into the realm where adrenaline rushes are part of the norm, hop onto the ATV Cruise bandwagon. With its high-octane action-packed experience, it's one cruise you would never want to disembark from!
What are the best online games?