Asmr Slicing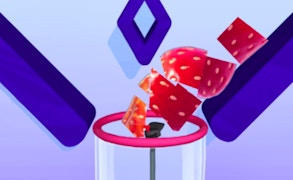 Asmr Slicing
Calling all gaming gourmands and puzzle enthusiasts alike! Let's turn up the heat in the digital kitchen with a taste of ASMR Slicing, a treat that perfectly blends the thrill of cooking games and the mind-bending fun of brain games. If your fingers are already tingling at the mere mention of Fruit Ninja, prepare to have your senses heightened with this simple yet captivating app game.
A vivid symphony for your senses, ASMR Slicing is more than just a game. It is an experience. Big fruits wait patiently on the platform, inviting you to unleash your inner chef as you slice and dice them into delicately cut pieces. The rules might be different from those embedded in your Fruit Ninja muscle memory, but that's where its charm lies. This twist introduces an exciting challenge that will keep you engaged and captivated.
The realism packed in each level is genuinely impressive. As you slice through each large fruit, gravity pulls down the chopped off pieces into a blender. The act of slicing isn't just visual; it's tactile and auditory too. The gentle sound effects coupled with visually appealing graphics make for an immersive gaming experience that will tickle your ASMR senses.
The ultimate reward? Watching those sliced pieces drop into a blender to create a vibrant cocktail of tasty juice—a tangible symbol of your prowess as a virtual slicer! Get ready to satiate your gaming appetite with this delightful concoction of brain games and cooking games.
ASMR Slicing transcends being just an app game—it's a sensory journey that practices your strategic thinking while indulging you with soothing ASMR cues. So grab your virtual blade, step into our digital kitchen, and let ASMR Slicing serve you an engaging blend of culinary adventure and brain-teasing enjoyment!
What are the best online games?
TAGS