Arkadium's Bubble Shooter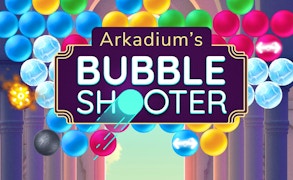 Arkadium's Bubble Shooter
Immerse yourself in Arkadium's Bubble Shooter, a game that brings an exciting twist to the classic genre of ball games. This skill game requires precision and strategy, taking bubble shooter games to new heights of addictive gameplay.
At its core, Arkadium's Bubble Shooter is a match-three game with a simple yet captivating premise. The goal? Burst as many bubbles as possible by matching three or more of the same color. However, unlike other generic bubble shooter titles, Arkadium goes above and beyond by giving players challenging elements to keep them on their toes.
In this epic ball adventure, bouncing off the walls is not just a trick—it's a strategic maneuver for those hard-to-reach shots. It's akin to pulling off a perfect ricochet in pool, requiring the same level of anticipation, accuracy and ultimately rewarding you with satisfaction. And then there are lightning bubbles. Burst these electrifying orbs, and you'll be able to clear entire rows—bringing mass bubble destruction and huge scoring possibilities.
The game also demands that you keep an eye on your remaining ammunition—you only have so many bubbles to pop! Every shot counts in this high-stake bubble popping arena where your next move could mean the difference between bubble-bursting glory and bubble-shooting defeat.
Arkadium's Bubble Shooter isn't just another one of those run-of-the-mill skill games. It belongs at the forefront of bubble shooter games, perfectly combining strategy with action. Whether you're a diehard fan of ball games or simply looking for some fun way to kill time, this action-packed bubble extravaganza is sure to keep you popping—and playing—for hours on end.
What are the best online games?