Arcade Hoops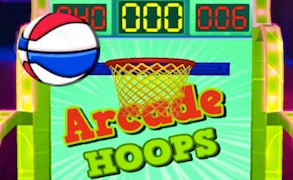 Arcade Hoops
Dive into an exhilarating blast from the past with Arcade Hoops, a vibrant and riveting embodiment of classic arcade ball games. As a standout in the realm of basketball games, Arcade Hoops flawlessly encapsulates the adrenaline-packed excitement mixed with timeless nostalgic charm.
Harnessing a perfect blend of agility, precision, speed, and fun, Arcade Hoops confronts players with a seemingly straightforward challenge. Pick from one of 20 stylish basketballs and attempt to sink as many baskets as you can in a pulse-pounding 45 seconds. But don't be fooled. This game isn't as simple as it sounds - the hoop moves back and forth in a thrilling test of your skills.
The movement of the hoop adds an unexpected twist to the familiar setup, cementing Arcade Hoops' place among innovative basketball-inspired Skill Games. The unpredictability of the hoop's movement compels players to think on their feet, flex their reflexes, and push their shooting skills to new heights.
Furthermore, beyond showcasing your basketball prowess, an additional strategic element is stirred into the mix. Accumulate coins during your shooting spree to unlock fresh and funky styles of basketballs. This delightful feature not only caters to die-hard customization fanatics but also rewards players for their sharpshooting excellence.
To sum it up, Arcade Hoops is more than just another basketball game; it's a tribute to traditional arcade games infused with a refreshing twist. Tapping into our love for ball games while innovating within its genre, this game provides countless hours of pure enjoyment for gamers seeking both thrill and nostalgia.
Your next high-score-chasing addiction awaits in Arcade Hoops, where every basket shot counts and every game is an adrenaline-filled celebration of classic arcade sportsmanship.
What are the best online games?