Apple Math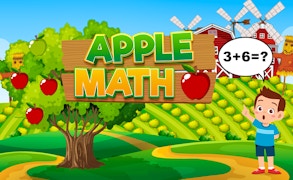 Apple Math
Description
In Apple Math, the world of math is transformed into a fun and immersive gaming experience for kids. The game presents the basic principles of mathematics through a series of interactive tasks involving cute, colourful apples. With each level, children will enhance their number recognition skills, learn simple addition and subtraction, and develop a keen understanding of numerical order. Apple Math makes learning math entertaining and engaging for young minds.
How to play
The controls are straightforward and user-friendly, perfect for little hands. To play, simply click or tap on the screen following the instructions given at each level. The game's levels progressively get more challenging as the child's math skills improve. Progress is tracked within the game, allowing for kids to see their improvement over time.
Tips and Tricks
Encourage your child to take their time with each level - there's no rush! Make sure they fully understand the mathematical concept before moving on to the next level. To make things exciting, children can try to beat their previous scores once they are confident with their skills.
Features
User-friendly interface: Easy-to-navigate design ideal for kids.
Educational content: Concepts of addition, subtraction and number recognition covered.
Progress tracking: Measures a child's improvement over time.
Vibrant graphics: Bright colours and cute apple characters maintain children's interest.
What are the best online games?