Anime Couples Dress Up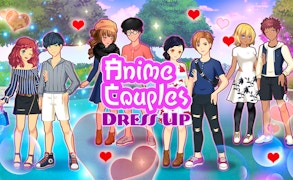 Anime Couples Dress Up
Welcome to a world brimming with creativity and fashion in the delightful Anime Couples Dress Up game! A remarkable addition to the realm of Games for Girls, it sets a new trend in the sphere of dress up games, and Hairdresser Games. With a palette of over 250 items to choose from, you have the liberty to dress up not just one, but both characters in the cute anime couple. The sky is, indeed, the limit for your imagination!
This vivid game stands out by presenting an array of costumes - 150 for girls and 100 for boys. All attires are available for free. Whether you want to mix and match or create themed outfits - 'Anime Couples Dress Up' has got you covered! It isn't just about dressing up; it's about experimenting and embodying your fashion statement.
But wait, there's more! The game doesn't limit your creativity to just outfits. Indeed, immerse yourself in our fascinating fashion games segment where you command the style narrative by deciding hairstyles and hair color for your anime characters! As a bonus, this feature also adds another dimension to the storyline of your characters.
Once you've styled your adorable anime couple to perfection, save that moment forever with a screenshot prompt option. You can then go ahead and share these memories with your friends, turning this gaming experience into an interactive one.
In conclusion, Anime Couples Dress Up is not just a game; it's a fun-filled journey you embark upon as an aspiring fashionista or upcoming hairstylist. With colorful visuals, easy navigation, and intuitive controls - this game guarantees unlimited fun while sparking creativity among its users making it one of the must-try games for girls.
What are the best online games?