Animal Puzzle Game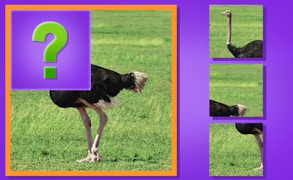 Animal Puzzle Game
Step inside the fascinating world of the Animal Puzzle Game, where learning meets fun, and fun inspires learning. This captivating puzzle game, developed by Nau.kids, introduces a unique platform that combines elements of animal games and puzzles to present an eccentric twist on traditional educational games.
The Animal Puzzle Game is meticulously designed to cater to our youthful audience. Its enchanting graphics and playful sounds captivate the hearts of every puzzle-loving child out there. The friendly interface makes it an ideal choice among Games for Kids. The child-friendly navigation ensures young gamers can find their way around the game with minimal assistance, letting them enjoy uninterrupted gaming sessions.
This immersive game goes beyond mere entertainment; it's a sophisticated tool for brain development. By solving animal-themed puzzles presented in the game, children engage in cognitive tasks that help enhance their problem-solving abilities and fine-motor skills — making Animal Puzzle Game stand out among other learning games.
The creators have intelligently incorporated educational elements within exciting gameplay. With each level, children get to learn about different animals and their habitat along with solving fun-filled puzzles — truly serving the purpose of educational games.
In a nutshell, Animal Puzzle Game is not just a 'game'. It's an edutainment platform where kids can 'play' to 'learn'. Its innovative combination of entertaining gameplay with educational elements truly sets it apart in the realm of animal games and Kids' Games. Whether you're looking for ways to keep your child entertained or want to boost their learning curve, Animal Puzzle Game is definitely worth considering.
What are the best online games?