Animal Life Cycle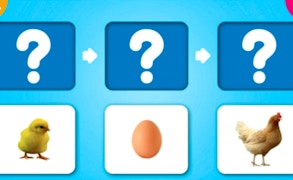 Animal Life Cycle
Embark on a joyous journey of discovery with the fantastic educational game, Animal Life Cycle. This delightfully captivating and interactive offering from Nau.kids is the perfect tool to introduce young minds to the thrilling world of our planet's animal kingdom.
This engaging animal games masterpiece effortlessly combines fun and learning into an unforgettable gaming experience. From the majestic lion in the scorching Savannah to the adorable penguin in the freezing Arctic, plunge into fascinating creature-filled worlds in this must-have for budding natural historians among Games for Kids.
With the Animal Life Cycle, children will learn about different animals' life cycles in continually-progressive ways. With lively animations, vibrant illustrations and intuitive interface, kids will uncover exciting facts about how animals grow and change. Moreover, this game provides ample opportunities for children to solve rewarding puzzles tailored specifically to their developmental levels.
This game is not just about entertainment; it's an enriching journey through nature's marvels that fosters curiosity, cultivates cognitive skills and encourages environmental responsibility too. As an exemplar of educational games, it's a fabulous medium to enhance your child's understanding of life sciences while developing their strategic thinking abilities.
Whether you're playing on a phone, tablet or computer, with its irresistible content and impressive graphics, Animal Life Cycle will captivate children's imaginations. So gear up! Jump into this whirlwind adventure through different animal habitats and life cycles; it's time to have fun while learning something new every day!
In conclusion,
if you seek effective educational tools disguised as delightful games for kids or your child loves animal games, then
Nau.kids'
Animal Life Cycle is your one-stop solution!.
What are the best online games?